Sexual assault allegations in Hollywood, sports, and media have been dominating the headlines lately. Yet some stories that do not involve as much money and fame are left out of the spotlight. Sexual misconduct has been happening all over the world and Amsterdam Oost is no exception.
Until October 18th, 2017, vast majority of Amsterdam University College students and people living around Amsterdam Oost did not know how many people have been affected by the same man over the course of several years. Sophie Valcour was the one who started a discussion around the topic when she uploaded a photo of a man holding a bike on 'AUC Girls' group. The post said, "DEAR ALL VAGINA-WIELDING HUMANS: has anyone else had a troubling/traumatising experience with this man before??"
The post quickly attracted students' attention. In the following three days, over 100 current and graduated girls wrote about their troubling encounters with the man on the picture. Most of the students described their experience as unpleasant and 'creepy.' According to Valcour, when they shook hands after he pumped air into her bike wheels, the man held her hand and didn't let go until she got angry and pulled it away. "As I was leaving, I said something like don't do this to women or learn how to leave us alone and he just kind of giggled at my anger and said, 'The best part about you leaving is I get to watch your ass as you go' and then stood there while I got on my bike," said Valcour. Some students stated that he followed them home with his car.
Some refused to give him their number, but then he became threatening.
Most commonly the man would ask for his client's number and assured them that he needed it to update them on the bike. But, instead of using it for business purposes, he often harassed students via WhatsApp calls and messages. Several uploaded screenshots of his messages, and as it turns out, he sent a variation of same standard texts to every girl. Some refused to give him their number, but then he became threatening.
Tina Christofidi remembers that the other employees at the bike shop could not find a bike that would suit her, so they told her to go to the storage with him. "It was in a basement, so we go down, and when we go in, he locks the door behind us," said Christofidi. After finding a bike, which was over her budget, he offered her a discount. "Then he asked for my number again with some stupid excuse. I tried to refuse, but he insisted, and I think I was a bit scared because the door was locked. So, I finally gave it to him and I remember he called immediately to make sure I gave him the right one and then he kept on telling me we should go out and I kept on saying no," she added. According to Christofidi, he opened the door only after he got a long uncomfortable hug.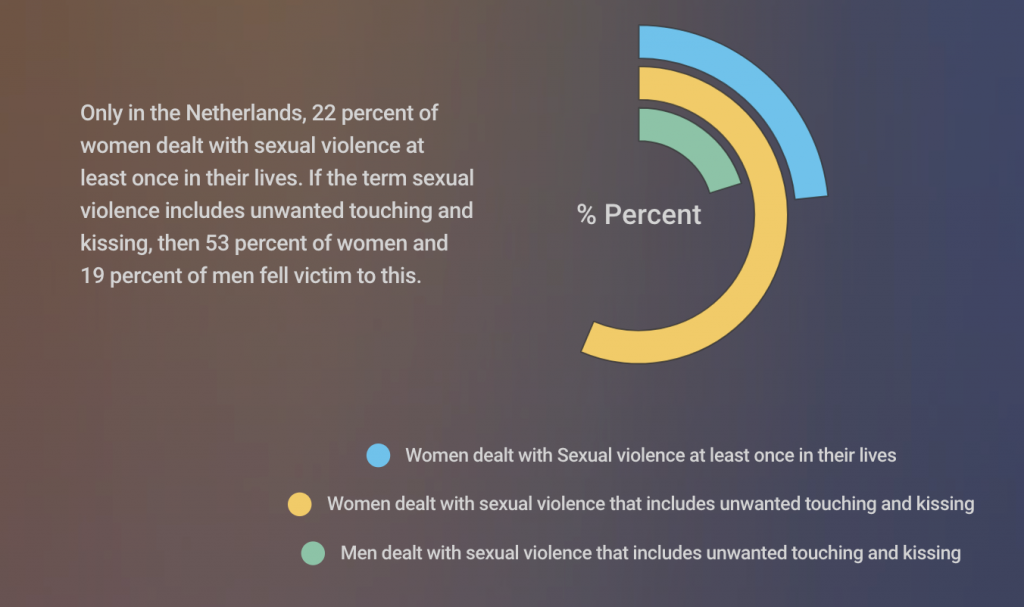 Christofidi was not the only one he tried taking to the back of the shop for a broader choice. "He was already very touchy at first, and I just stepped back," said Eva Kagenaar. When he asked her to go to the back of the shop for a special price, she refused, which he took as a joke. He tried again and was turned down again, after which as Kagenaar said, he seemed personally offended and made an inappropriate comment about her appearance – "He told me I wasn't that beautiful anyway."
Several students also wrote that he complimented them and gave them a discount. Alumna Anastasia Yakunina wrote: "He gave a discount cause he said I was a 'sexy and beautiful girl' and wanted me to hug him as a thank you." Sometimes he would offer discounted or free services in exchange for a date or a kiss. "He offered a bike for a discounted price but then stroked my face and kissed me on the cheek very close to the mouth," wrote Ellen Ackroyd. He also took emotional advantage of girls who were in a vulnerable state. After a stressful day, Dian Nathan-marsh was a little teary when she went to the bike shop. "He pestered me for my number telling me how lonely he was in the 19 years he had been here, when I stated that was my age he replied this was good enough."
When they got to the basement, he grabbed her by the wrists and offered a good deal in exchange for a kiss.
As the discussion continued, more people started telling their stories. Turns out he also touched some students inappropriately. An exchange student wrote: "He literally squeezed my butt and tried to kiss me." This was not the only time he tried forcefully kissing a female customer. Another comments describes how he took another girl to the basement to find a suitable bike, but instead when they got to the basement, he grabbed her by the wrists and offered a good deal in exchange for a kiss. "He was very insistent and was holding on to me before I said I would shout if he didn't let go."
While there is no information whether this type of incident has happened in other shops on Molukkenstraat or around Oost, after checking the google reviews of every bike shop on the street, nothing similar could be found. But when checking reviews for this specific bike shop, several accounts not linked to AUC write about their experiences in the same bike shop. One of the users wrote: "This man is dangerous, he is a known sex offender! Girls, please watch out, this man likes to 'hug' you and give you kisses, even if you tell him not to do that!"
Several reviews also stated that the bikes they bought were stolen couple of days after purchase and some write that employees never actually fixed bikes, but instead added damage to it. The shop was closed for few months. During these months, several AUC students claimed that they saw the man in a different bike shop near the same neighbourhood. The bike shop reopened some time ago and some claim that the same man is still working there.
When asked to comment, the bike shop owner claimed that he was aware of the situation and was doing everything in his power to prevent this from happening again. "It was two guys and one of them is not working here anymore, but this problem is gone now, that was one year ago," he said. The shop's rules got stricter about customer-employee relations. "We are very serious about this" said the owner. To keep the shop safe for customers, he asked to let him know if such behavior has been happening lately so that they can take action.
In any case, 'dear all vagina-wielding humans,' be aware, stay safe and bring your stories into spotlight!