This week on International Wednesday: Madita Strähle spent her summer traveling through Israel and Palestine – an area which we tend to associate with war, conflict and insecurity. But is this really all the Middle East is today? Is it as dangerous as the media want us to believe? Madita captured a few moments right on the spot of locals' everyday lives and explored the Middle East's hidden systems.
As one of the most complex conflicts of modern day times, the conflict in the Middle East is one of the most constantly re-appearing issues in Western media representation. Curious about how the conflict impacts the every-day life in the region, I spent a month travelling through both, Israel and Palestine during August 2017. Throughout the journey, my priority was to listen, rather than to talk; to remain open-minded, rather than to be judgemental; to understand the impacts of the conflict not exclusively from a political, but mainly from a humanitarian perspective. Through the lens of my camera, my goal was to capture every-day-life in the region from my own personal perspective.
#1 Transboundary
I am travelling. The sun is beating relentlessly down from the cloudless sky – one thing both countries have in common after all. Today is Shabbat in Israel – it is Saturday in Palestine. From Jerusalem an overfilled shuttle bus takes me to 'Rachel's Crossing'. The checkpoint which connects Jerusalem and Bethlehem is one of the permanent roadblocks that have been created all over the West Bank since the 1990's.
#2 Changeover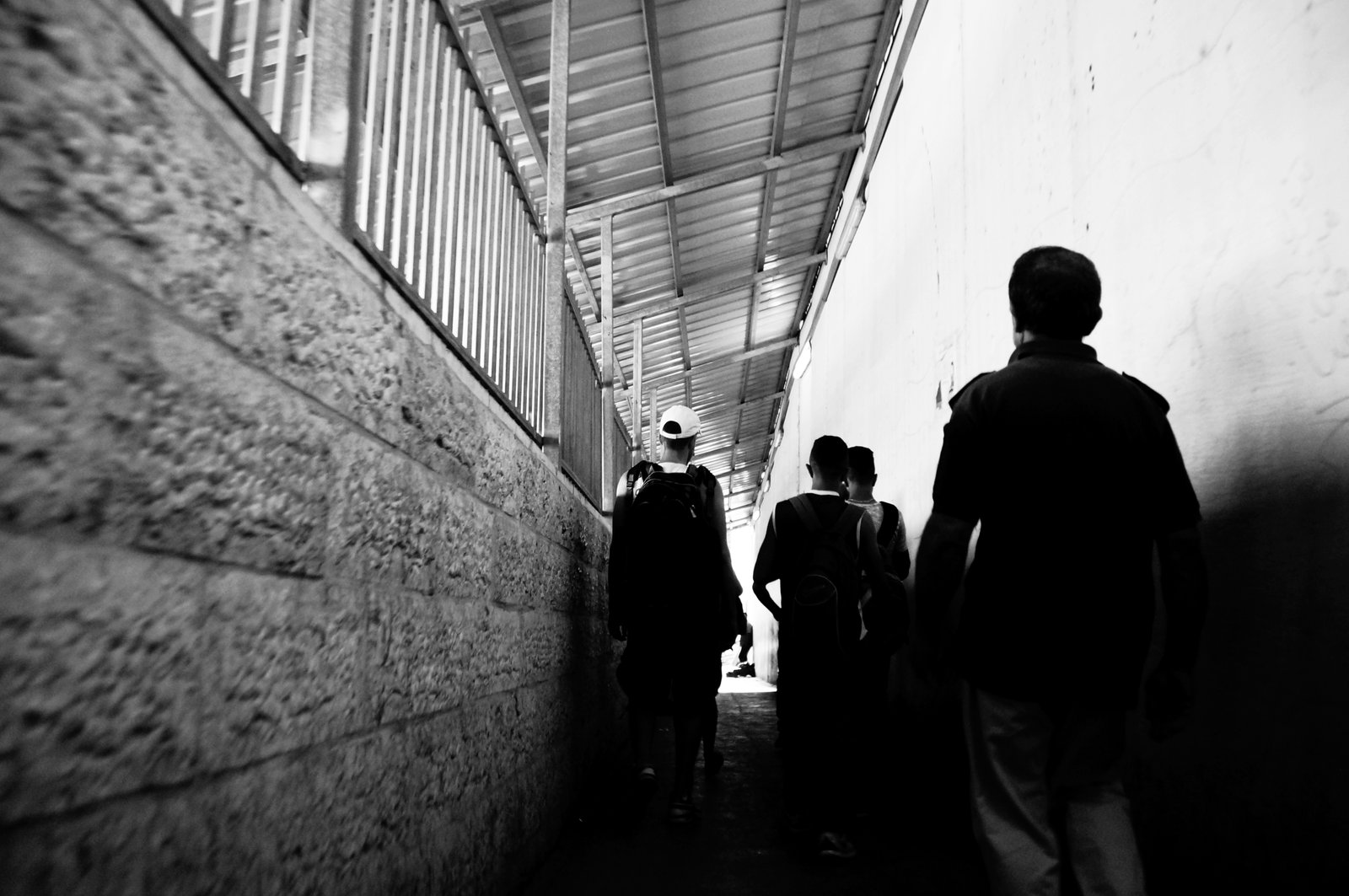 Long fenced corridors equipped with surveillance cameras and numerous rotating grids mark the passage between the two countries. In front of me, quietly, a group of young Palestinians. While I feel observed and imprisoned for the first time of my life, they seem to apathetically make their way through the labyrinth of ails and fences. Daily routine for those who manage to obtain a working permit for Israel. At a little cabin, a young Israeli soldier with a machine gun checks my passport. Without words but a nod, he signals me the way to Palestine.
#3 Uncertainty 
708km long is the wall that separates Palestine from Israel. While the Israeli call the wall the "security fence", Arabs refer to it as "the wall of apartheid". The countless graffities and artworks painted on the wall calling for peace, are overshadowed by a machine fixed on top of the 3m tall barrier. Whether it is a remote-controlled machine gun as claimed by a Palestinian civilian who sees me taking a photograph, or a water canon as Israeli sources assure, I most of all feel that it is an accurate expression of the bipolar anxiety of the conflict.
#4 Divisions
I am finding myself in a divided city within a divided country. Since 1997, Hebron has been separated into two sectors: H1, controlled by the Palestinian authority and H2, administered by Israel. The suppression, anger and despair, which I am witnessing in Hebron gives me an accurate insight of the complexity of an ongoing conflict whose history is shattered and oversimplified by a deductive portrayal of western media.
#5 Ghosts 
It is a thin line between justice and injustice, right and wrong, good and bad. Hebron's story is a long and complex one and certainly not one free of violence and crime. What I see today are patrolling Israeli soldiers on Palestinian territory, grids over the narrow alleys of the city which serve as a protection from stones, rubbish or acid being thrown by Israeli settlers at Palestinian pedestrians. I see houses that have been overtaken by settlers, covered in Israeli flags, and guarded by military. I am walking through the "ghost town" in which Palestinian presence is prohibited.
#6 Blocked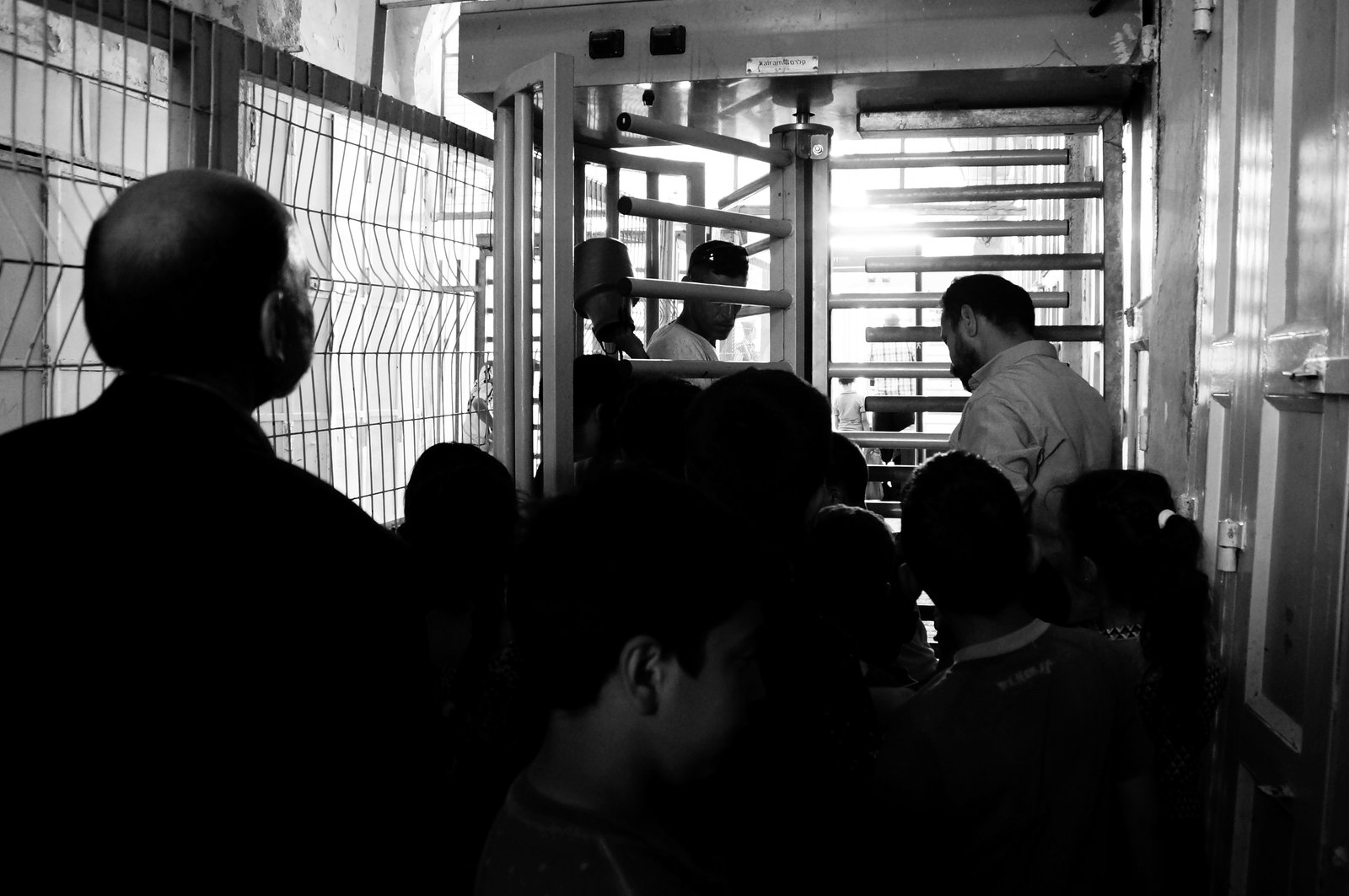 Within only a few days I have gotten used to the many checkpoints, to seeing guns and urban, rural images of destruction. My presence as a foreigner evokes interest on both, the Palestinian and the Israeli side. Many people feel the need to talk, to share their stories, wanting to be heard and understood. The stories vary from individual to individual, from Palestinian to Israeli, but the despair, frustration, and accusations of the "other" remains the same for everybody.
#7 Bigotry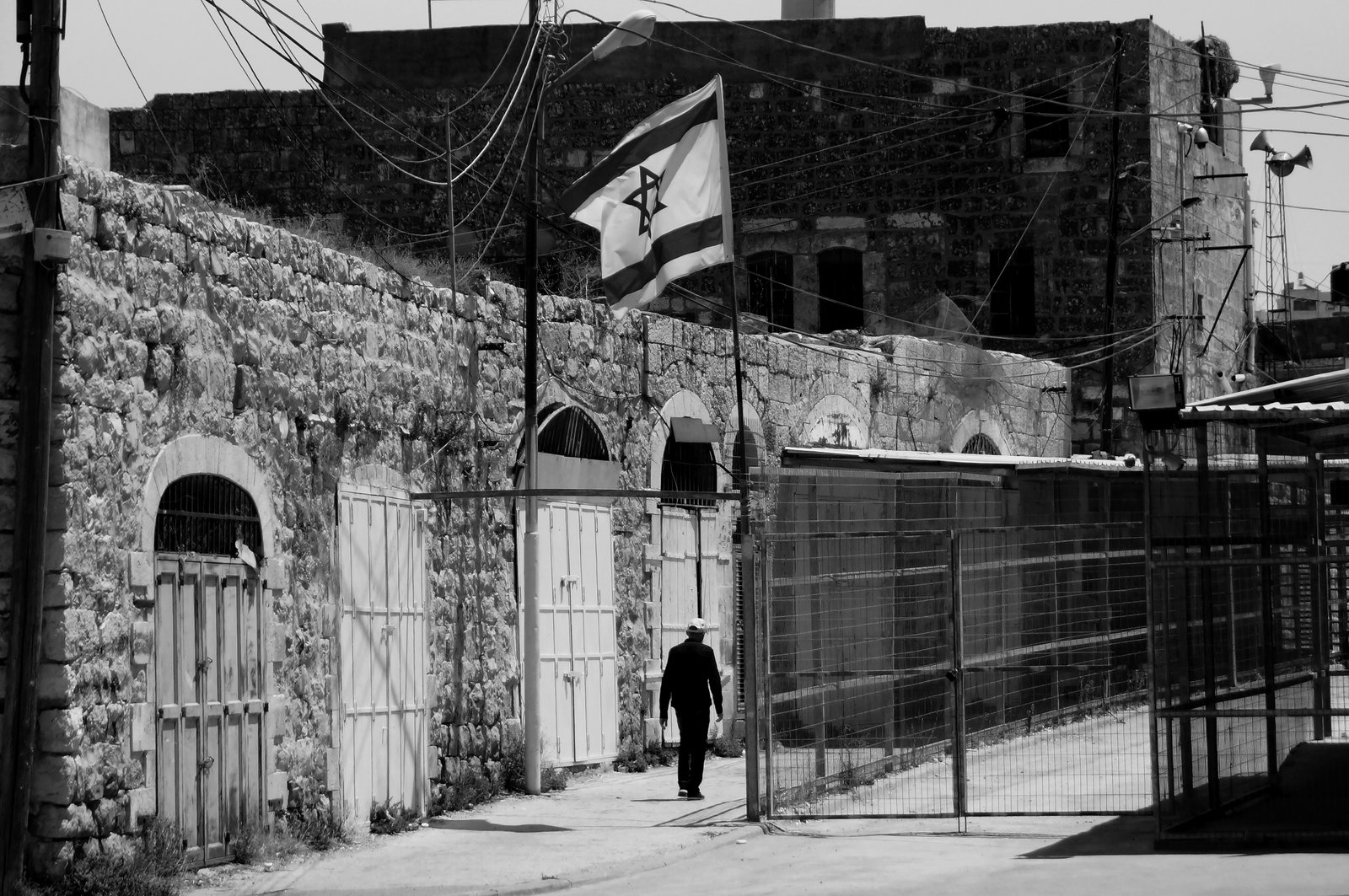 Two-year-olds carry toy guns bigger than themselves. Arabs proudly wear Hugo Boss prints on their T-shirts to express sympathy with the company that designed the German 'Wehrmacht' uniforms in WW2. Jewish Orthodox purposely knock over products in front of Arab shops. I feel overwhelmed by the politicization and the bigotry of everyday life. Surely, religion plays a major role in the conflict, but from my own experiences I see the very core of the problem deeply rooted in the minds of society which pass on their mindsets from generation to generation.
#8 Visions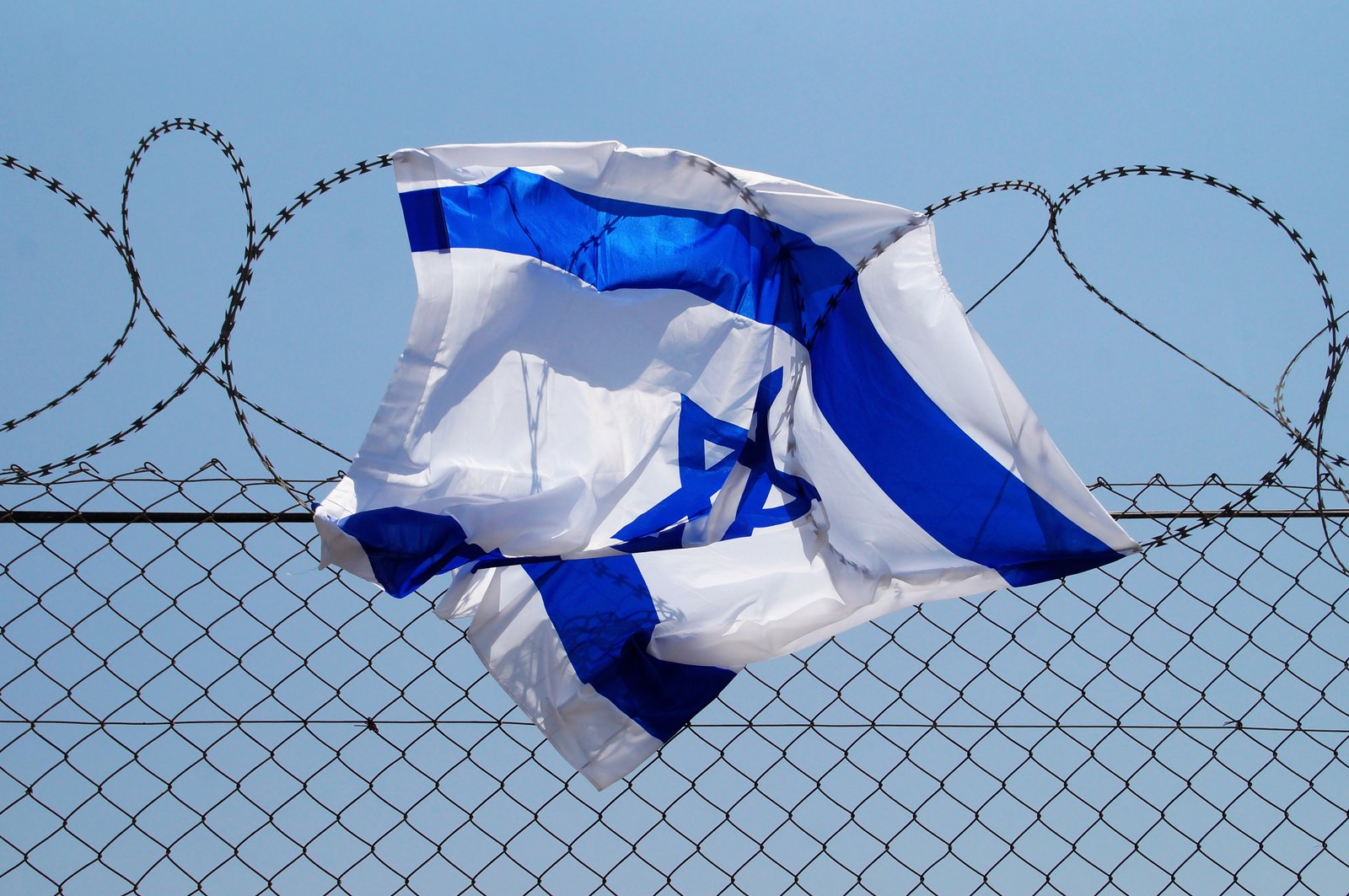 It is the question of revenge and of fault that is being addressed the most in my encounters with the locals. "WE want peace. But THEY have to stop first." A conditional statement which is impossible to pursue in such a heavily contaminated and annihilated society. But there is hope. At night I am sitting together with my friend Salah from Bethlehem and listen to his stories. Stories about his Israeli friends. About his illegal departure to Jordan and his trip to Europe. About the many times he hitchhiked illegally across Israeli boarders pretending to be the Canadian "Frank Williams" who is the real face behind the famous story "Catch me if you can". Instead of projecting anger and grief, he is fighting for peace. After a long puff, he looks up from his water pipe and says: "This is my home. Everybody is welcome here. Palestinians, Germans, Israelis, everybody." When I tell him about my passion for photography, he rises and disappears for a few minutes. When he comes back, he carries a big camera in his hands and an even bigger smile on his face. "Let's go out and take pictures tomorrow." After all, peace needs visions.